Senate Race: Connecticut
Much of New England seems to be moving into flux.
The Senate seat vacated by the death of long time Massachusetts Democrat Ted Kennedy is heating up as the special election is lurking in the near future.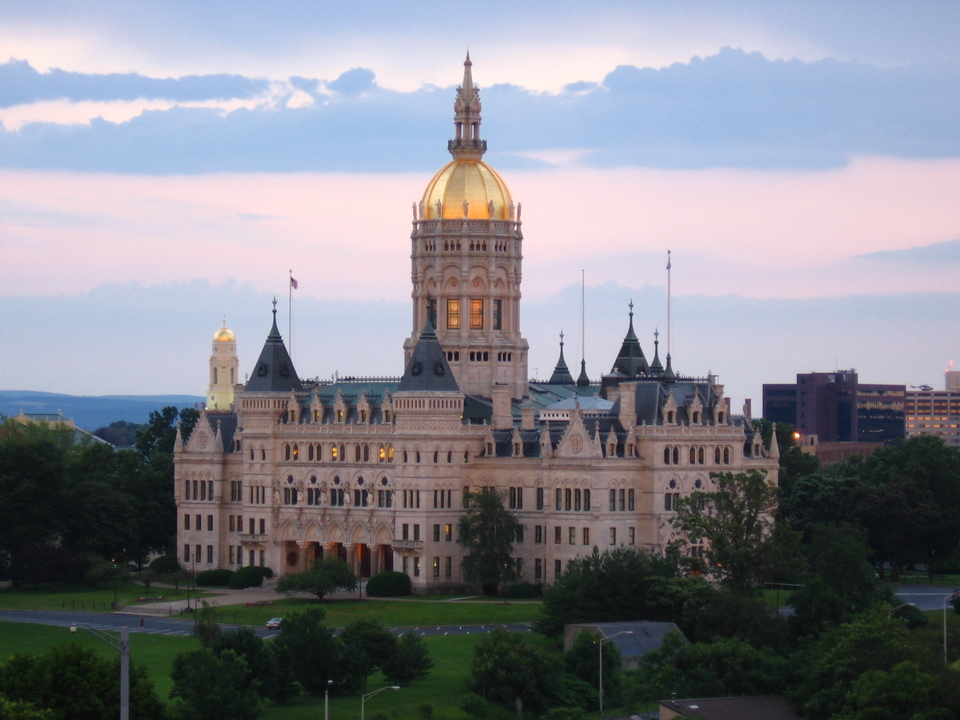 Connecticut has a long held Democrat seat opening as Senator Chris Dodd has announced that he will not be seeking to retain his seat.
New England has been a Democrat stronghold for many, many years.
Chris Dodd's father, a former FBI special agent and one of the key US figures in the prosecution during the Nuremberg Trials,
Thomas Dodd
was a Democratic Senator from 1959 to 1971 for the state of Connecticut.
In 1967 Senator Thomas Dodd was censured by the US Senate. The condemnation came as a result of a finding that concluded Sen. Thomas Dodd had converted campaign funds to his personal accounts and had spent the money. In politics, censure is an alternative to more serious measures against misconduct or dereliction of duty. It is a formal reprimand. Subsequently, Sen. Thomas Dodd lost the support of the Democrat Party in 1970 and ran on the Independent ticket. A bid that he lost with under a quarter of the popular vote.
The Republican party picked up the Senate seat with the election of Lowell Weicker. Wicker served in the U.S. Senate for three terms, from 1971 to 1989, before being defeated for a fourth term by then Democrat Joe Lieberman.
Chris Dodd started following his fathers footsteps in 1974, just a few years after his father lost his bid for reelection to the Senate and his death in 1971.
Chris Dodd won a seat in the House of Representatives for Connecticut's second District. He held that seat for two more election cycles. He was elected to the United States Senate in 1980.


Se. Dodd served as general chairman of the Democratic National Committee from 1995 to 1997 and is the Chairman of the Senate Banking Committee. In 2006, Dodd ran an unsuccessful bid for the Democratic nomination for President of the United States. He withdrew after it became clear that he stood little chance. After he withdrew from the race Sen. Dodd endorsed Barock Obama for the parties nomination.

Recently, Sen. Chris Dodd, who has served five terms in the US Senate and holds numerous committee memberships, announced that he would not seek a sixth term. The move, while expected by many after the financial controversies that have followed him for the past few years, ultimately opens one of the country's longest held Democrat Senate seats.

Who has has decided to run for the Connecticut Senate?

Connecticut's current Attorney General Richard Blumenthal:
Blumenthal is currently serving an unprecedented fifth term as Attorney General having first taken office in 1991. He has served in the Connecticut House of Representatives from 1984 to 1987, and then the State Senate from 1987 to 1990. As a volunteer attorney for the NAACP legal defense fund, Blumenthal saved the life of an innocent, wrongly convicted death row inmate, who came within hours of execution. Blumenthal graduated from Harvard College (Phi Beta Kappa, Magna Cum Laude), and Yale Law School, where he was editor of the Yale Law Journal. He also served as a sergeant in the U.S. Marine Corps Reserve.

Former Congressman Rob Simmons, a self-described Rockefeller Republican:
Simons spent three years in the Army and a decade in the Central Intelligence Agency. In in 1990 Simmons launched his political career as an elected official by being elected to the General Assembly where he served for ten years. Simmons he was elected to the U.S. House of Representatives in 2000. He held his seat in the House for two more elections and narrowly lost in the 2006 elections.

Former World Wrestling Entertainment CEO Linda McMahon:
A fiscal conservative. Linda has committed not to accept PAC money or special interest money. She will limit contributions to her campaign to $100 but plans to use her own resources to help finance the race.

Fairfield County businessman, author, and economist Peter Schiff:
A fiscal conservative. Peter is not a politician and has never held elected office. In 1996 he acquired Euro Pacific Capital, an investment firm. Schiff believes that our economic recovery should be left to the free market through businesses and individuals – not the federal government. He believes that, out of 100 members of the US Senate, at least one should have real world experience in finance and economics.

According to a Quinnipiac University Poll dated January 14th:


Connecticut Attorney General Richard Blumenthal has 35 to 47-point leads over three Republican candidates for the 2010 U.S. Senate contest, thumping former wrestling executive Linda McMahon 64 - 23 percent, bruising businessman Peter Schiff 66 - 19 percent and smacking former U.S. Rep. Rob Simmons 62 - 27 percent, according to a Quinnipiac University poll released today.



We will find out who takes the seat when the 2010 midterm election's finally get her. There will be a long run up to Tuesday, November 2.

There are at least 36 of the 100 seats in the Senate that are going to be contested. The current U.S. Senate is made up of 58 Democrats, 40 Republicans, and 2 Independents. The special election to fill the Senate seat vacated by the death of Sen. Kennedy will be held on January 19, 2010. It remains to be seen if the Democrats can continue a claim of 60 seats in the Senate. The Massachusetts race may be an indicator of things to come.





Help 1461 Days grow!
Share this post on Twitter!